It was a normal day, as usual, I started my day with my daily exercise and meditation routine. With peace and positivity, I started my day working on my blogs, preparing my diet meals, etc.
I was happily enjoying my time until at night I felt heaviness in my throat. It was the 4th of April, 2021 I had a spoon of ice cream after my dinner.
A moment later I started feeling a little irritation in my throat.
My covid recovery story: Initial days
By late night, I had a fever, and the heaviness in my throat was intensifying. The next morning my back was hurting and I was feeling a little weak.
My dad and mom started cursing me for having ice cream last night.
We thought the culprit was the ice cream but the real devil was something else, more horrifying and deadly.
Assuming normal cough and cold I was put on the medication. My fever started playing hide and seek and my back was hurting like hell.
It was the second day, and there was no sign of recovery. The fear of corona was rising in my head. I asked my family members to maintain physical distance and wear masks.
But it was too late, by the third day my both parents were complaining about little weakness and fever.
Meanwhile, I kept smelling food items and deodorants to see if everything was okay with my smell. The fear started rising up and my brothers asked me to get tested for Covid-19.
It was the fourth day, I was feeling very weak and there was no sign of recovery at all.
My elder brother put three of us in quarantine in three different rooms on the ground floor. With time my condition was worsening feeling difficulty in breathing.
That day my brothers cooked food for us and helped us with medicine, lukewarm water, etc.
By that day, my smell and taste were almost lost. I was now 100% sure, we were infected with covid-19.
On the fifth day, my elder brother who was helping us with our needs had complained about the same symptoms.
By evening he too was feeling weak and got quarantine in another room. We were feeling as if a strong deadly storm has taken away our happiness and peace in no time.
My superstar younger brother: The first corona warrior
My mom was very tensed thinking about who gonna provide us food and medicine now. Seeing my deteriorating condition, my both parents and brothers were terrified.
A storm of responsibilities was bombarded on my younger brother now. He was the last hope for all of us. We were hoping that everything is okay with him.
With torrents of responsibilities thrown at him, he did everything to help us fight down this deadly virus.
He was doing every bit of work from cooking food to cleaning to providing us water, medicine, and everything.
He was just a call away. Whatever we needed he was ready with the things as if he got any superpower.
Every time we ask for things he has to move down from the first floor to the ground floor maintaining physical distance from us, wearing three masks, headgear, and sanitizing the ground with his every step.
He was taking a lot of pain than us, physically and mentally. From ordering ration to sanitizing them to storage to cooking till it reaches our stomach.
He had the responsibility of 4 people to medicate and at the same time do not panic with the worsening situation of the family.
He was very calm and composed, boosting our motivation with his words and immunity with his foods.
He was cheering us up serving food, water, medicines, and whatnot. I remember, he used to wear a headphone and listen to some positive stuff carrying the life-saving food plate in his hand to serve us.
My mom used to address him an avatar of Goddess Annapurnna.
My superstar dad: The second Corona Warrior
Days were passing so slowly for us. It was the second week and my condition started worsening even further.
I was lying helplessly on my bed with oxygen level going down from the 90s to 80s. My dad was continuously surveilling my oxygen level and breathing pattern.
He used to look through my window and ask me to keep updating him with the lastest oxygen level.
One day, when he noticed my breathing pattern a little abnormal he asked me to check, and it had come down to 76. I was breathing a little fast and he noticed it.
I can hear from the distance my father talking to someone to arrange an oxygen cylinder. He tried his best throughout the day contacting several people to get one for me.
Luckily, he got one from his network.
I was feeling very bad when my father in his 60s infected with Covid-19 was taking care of us like a god.
He was the one who was asking me for food, medicine and giving me lukewarm water from time to time.
Even at late night, he used to look through my window to check if I need something and sleeping properly.
At the same time, he was also taking care of my relatives over call who also got infected. To some, he helped get oxygen cylinders. He did whatever he could do from his end.
A few days later, my uncle died and my father was broken with the news.
Later that day another relative who he was helping died of the corona. Now he was feeling mentally and physically broken.
But he recollected his hopes and stood strong to help three of us at home.
I must say he has very strong will power.
He was continously in touch with doctors for medication.
I thank god that my both parents have already taken the Covid-19 vaccine. So, they were not much affected by the virus.
By the second week, my elder brother's situation started deteriorating. My dad was unaware of the fact that my elder brother was sleeping on a broken folding bed.
When he noticed that he managed to get a wooden bed lying in my house. He then shifted that heavy wooden bed pulling all alone with his amputated leg from one end of my house to another.
One moment he was checking my brother and the next moment I. He sacrificed his nights of sleep to make us sleep properly.
Defeating corona with strong willpower: My experience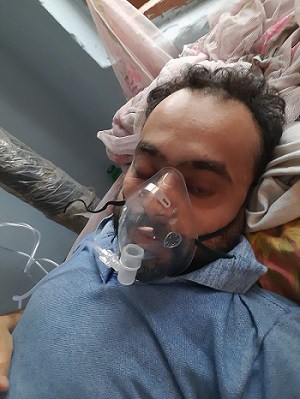 It took me around 21 days to defeat corona. In the first week, the situation was not that serious. The situation started worsening in the second week when everything was looking out of control.
I was feeling like someone has put a heavy load on my chest. The more I was breathing the more my throat was drying up.
Particularly at night, it felt like my throat was blocked completely, feeling difficulty in breathing.
The more I was coughing the heavier my chest and throat were becoming. I had sleepless nights and hardly used to sleep even for an hour properly.
Due to corona, heavy back pain and less sleep I was feeling too much of dizziness all the time.
I was losing my hopes. But every time any negative thought used to enter my mind I used to kick it away saying "My immunity is strong. I am a fitness guy and influence others. I have a strong chest I go out for running. The show must go on".
I even used the power of visualization and started planning for my future life once I recover.
I made this visualization into a strong belief to suppress my current pain. It gave a strong hope to keep breathing and stay positive.
I even wrote a small post on LinkedIn to boost the motivation of people suffering from Corona.
The post went viral on Linkedin with more than 3 lakh views in a matter of days. Below was my post on Linkedin.
I do not wanted to let myself panic with rising fever and lowering oxygen levels.
My fever reached up to 103F, started feeling shortness of breath, weakness was so high, my throat was drying, my back pain was at its peak, and my heartbeat was rising.
Whenever I used to check my fever and oxygen level, I used to say that these readings are wrong. I am okay and these are just machines and can be wrong.
I do not wanted negativity and fear to dominate my mind in any case. I tried to fool and trick my mind into thinking everything is normal to avoid panic.
With the love and support of my younger brother, father, and strong belief I started recovering by the third week. Not only me, but all of us also tested negative by the end of the third week.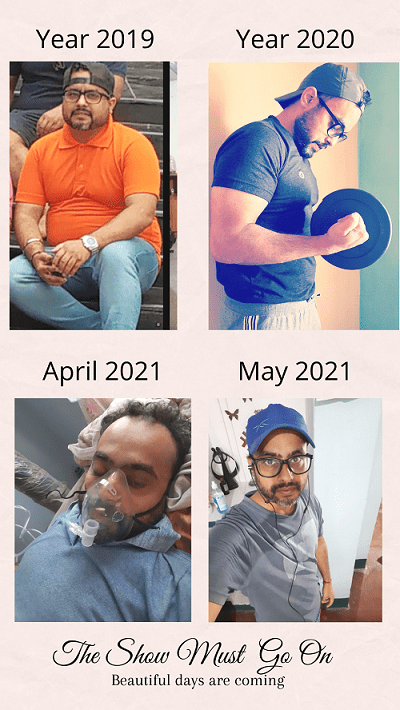 Not to forget the help and love that I received from my sister, eldest brother, and sister-in-law staying far away from us.
It was my eldest brother who helped us get the Covid-19 test at home, sent professionals to sanitize our home post-recovery, and provided us small bottles of oxygen in the emergency.